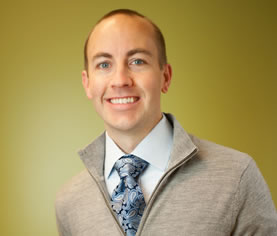 Dr. David Baker earned his doctorate at OHSU School of Dentistry in 2003 and completed his orthodontic residency at Children's National Medical Center in Washington, DC in 2005. He then continued his training with one of the world's foremost orthodontic clinicians, Dr. Larry Andrews.
Dr. Baker not only learned directly from Dr. Andrews since 2003, he was invited and spoke on the Six Elements of Oro-Facial Harmony at the American Association of Orthodontists annual meeting in Hawaii in 2012.
The 6Elements is an innovative philosophy of orthodontic treatment, discovered by Dr. Larry Andrews, that creates harmony and balance between your teeth, jaws, airway, and face. What this means for you is that Dr. Baker not only straightens your teeth and corrects your bite, but he also knows how your jaws should be positioned for improved health, comfort, and aesthetics. He really understands the "tough" cases and how to work with kids who have cleft lip/cleft palate and craniofacial deformities as well. This is one of many reasons why, in addition to private practice, he has been the consulting orthodontist for the Portland Shriner's Hospital Cleft Palate and Craniofacial Team since 2005.
Dr. Baker also uses the Six Elements to diagnose and help treat concerns such as a gummy smile, deficient chin, protruding chin, overbite, under bite, a narrow smile, and creates very pleasing aesthetic, optimal long term health results for patients.
Despite his clinical expertise, Dr. Baker's most compelling feature is something all too rare in today's rushed world: he takes the time to relate to every single patient. Boys, girls, teens, and adults all find that Dr. Baker is able to make their individual care a top priority.
Dr. Baker is happily married to his wife, Dawnelle, and they live in Camas, Washington. In his spare time Dr. Baker loves to spend time with his wife and their five daughters, Lynnden, Makenna, Lucy, Caydence, and Samantha. He also enjoys wake surfing, golfing, riding bikes, and fun hikes with their dog Bella.